What can you do if I like the artwork but the color doesn't match the décor of my home?

Most of my original artworks are digitally scanned, therefore the color scheme can be modified before printing a giclee to compliment your home's interior.
---
How do you prepare a custom painting that will fit well into my home or office?

You may send pictures of your current furnishings so I can ensure that the colors will match the design of your home.
---
How long does it take to finish a custom painting?

Depending the on the complexity of the work and the medium used in the process the time to completion varies. Abstracted landscapes could be done within a week, while photo realistic oils can take several months to apply layers of paints and to completely dry.
---
Is there any discount on multiple orders?

Yes, there is a discount on multiple orders.
---
Do you install your art-work?

For local clients I will be happy to take the artwork to their home and install it personally.
---
What medium do you work with?

I work with oil, acrylic, charcoal and digital medium.
---
Why is there so much price difference between artworks?

Some artworks take more time to create, than others depending on the size, the medium used and the detail required; therefore prices can be widely different.
---
What determines the price of a giclee/print?

We determine our giclee prices based upon our printing costs, and finishing (hand embellishment) work.
---
What does hand embellished means?

Hand embellishing means when a canvas jiclee/print is re-touched by the artist to create an original-like look with color glazes and texture work added to the surface. For the untrained eye a hand embellished giclee/print looks just like an original for the fraction of the cost.
---
Do you make hand embellished giclee-s from all of your works?

Not all of our paintings are available in print. Digital scanning, color modification and re-printing of artworks is a very expensive process, therefore I only digitalize the most valuable originals.
---
Are the prices negotiable?

Yes, especially on multiple orders.
---
Do you display your art-works in a gallery?

My artwork is often on display in local galleries and art-shows.
---
What is your return policy?

All sales are final with a flexible exchange policy.
---
Can I Get Items Shipped To My PO Box Address?
We can do so with US Postal Service, however we can not do so with Fed Ex or UPS. For your security, Fed Ex requires a physical (street) address for door- to-door delivery.
---
FAQ About Portrait Work
What can I order?
We can draw or paint anything you have a photo of. If you want more than a reproduction of your photo, please check our photo guidelines first. We can do favorite photos, portrait photographs, photos of houses, landscapes, old time photos, graphics, other paintings, celebrity posters, movie posters, or black and white photographs. Please send your digital photo when inquiringPhoto guidelines
---
Selecting Photographs
Rule #1: Our greatest portraits come from great photos.
The quality of the photo, is the difference between a good portrait and a good portrait that makes you say, "Wow!" When using non-professional photos please follow the guidelines below:
1. Digital photos should be 1mb or larger.
2. Prints should have a face size 3" x 5" or larger.
3. Eye color should be visible from the printed photo.
Unfortunately we can't produce life-like portraits using only a photo from a drivers license. The best results come from a detailed photo.
---
How good will it be?

The quality of portrait depends highly on the quality of the photograph. When sending a digital photo, make sure it is print quality. We are especially good at replication. Please give us as much direction as possible to ensure you get the painting or drawing you want .A great photo is the best start for a perfect art work. Pictures from driver licence or blurred shoots are not promising the best results
---
How long will it take to receive my portrait after payment?

Once your payment is received, We start to process your photo. Usually it will take 14 days to complete the work depending on how complex it is and how many characters are involved. Charcoal portrait Average Process Time about 10 Business days
Oil portrait Average Process Time 20 Business days These will vary during peak periods.
---
Can I send multiple photos to create one portrait?
We recommend that you find the best possible photo as your main pose. Adding additional elements from other photos is possible, but it will add to the complexity of the work and to the final price. Please use clear labels when requesting multiple photo composites.
---
Can you unite a family from different pictures?

Of course
---
Can you work from damaged photograph?

Yes! First we perform digital photo restoration on the item. See belowTouch-Ups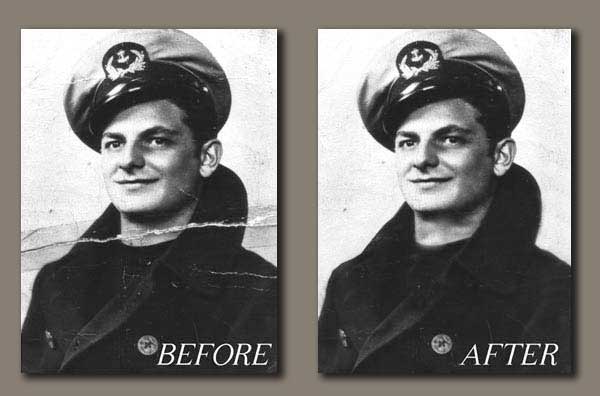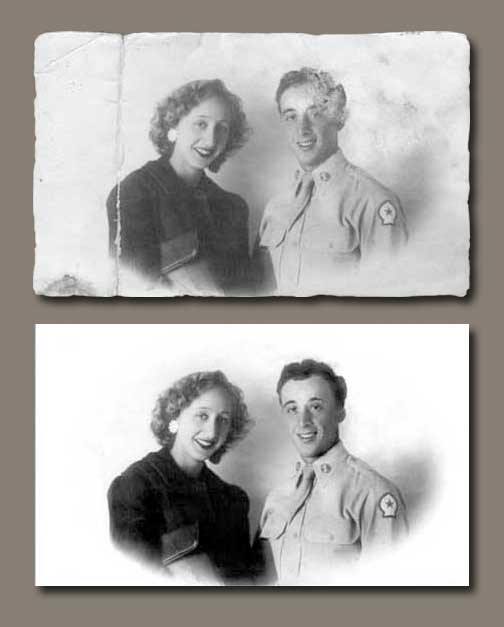 ---
It is very common for artists to do touch up on a portrait. We can alter details such as hair length, jewelry, teeth, close, smile, and more. We will touch up any area to your satisfaction.
---
Service Details
Before making an order please do the following first:
Decide on a paper size. One face is usually drawn vertically, 16x20 to 18x24 size.
Two or more faces are done horizontally, 24x30 to 24x36 size
Decide which pictorial elements are to be included (backgrounds, chairs, etc)
Select head and shoulders, 1⁄2 body or full body pose.
Specify additional subject(s) for group portrait. Two figures, for example, can be combined from separate photos.
---
Half or Full body poses
When choosing half or full body poses, please keep in mind facial detail is greatly reduced as more of the body is displayed.
Minimum size for full body should be 24x48
Minimum size for half body should be 24x36 Choosing the Pose
Please decide on a primary image for the pose. For example: A person in front of a waterfall can be put in front of a building or next to another person.
We can do special requests such as:
Combining people from separate photos into one portrait
Putting clothing from one photo on the figure in another photo
Adding a unique background
Removing a person from the photo
Removing eyeglasses
Removing or adding hair
Removing braces
---
Do you take payments ?

A traditional practice in the industry has been to take a 50% deposit to begin the painting, and then receive the other 50% when the painting has been completed. For out of state commission we request full payment before we begin your painting.